SANS SEC 503 Intrusion Detection In-Depth On-Demand Video Tutorial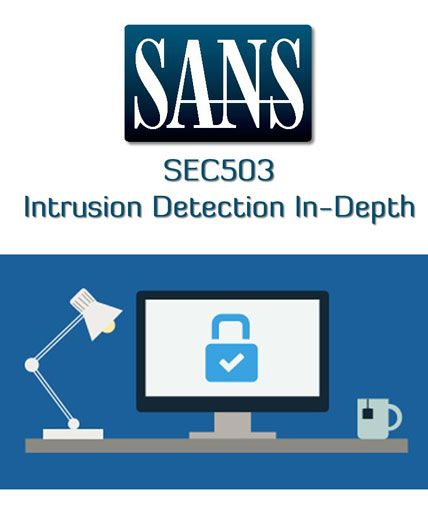 SEC503 is one of the most important courses that you will take in your information security career. While past students describe it as the most difficult class they have ever taken, they also tell us it was the most rewarding. This course isn't for people who are simply looking to understand alerts generated by an out-of-the-box Intrusion Detection System (IDS). It's for people who want to deeply understand what is happening on their network today, and who suspect that there are very serious things happening right now that none of their tools are telling them about. If you want to be able to find zero-day activities on your network before disclosure, this is definitely the class for you.
What sets this course apart from any other training is that we take a bottom-up approach to teaching network intrusion detection and network forensics. Rather than starting with a tool and teaching you how to use that tool in different situations, this course teaches you how and why TCP/IP protocols work the way they do. After spending the first two days examining what we call "Packets as a Second Language," we add in common application protocols and a general approach to researching and understanding new protocols. With this deep understanding of how network protocols work, we turn our attention to the most widely used tools in the industry to apply this deep knowledge. The result is that you will leave this class with a clear understanding of how to instrument your network and the ability to perform detailed incident analysis and reconstruction.
These benefits alone make this training completely worthwhile. What makes the course as important as we believe it is (and students tell us it is), is that we force you to develop your critical thinking skills and apply them to these deep fundamentals. This results in a much deeper understanding of practically every security technology used today.
Preserving the security of your site in today's threat environment is more challenging than ever before. The security landscape is continually changing from what was once only perimeter protection to protecting exposed and mobile systems that are almost always connected and sometimes vulnerable. Security-savvy employees who can help detect and prevent intrusions are therefore in great demand. Our goal in SEC503: Intrusion Detection In-Depth is to acquaint you with the core knowledge, tools, and techniques to defend your networks with insight and awareness. The training will prepare you to put your new skills and knowledge to work immediately upon returning to a live environment.
Course Syllabus
SEC503.1: Fundamentals of Traffic Analysis: Part I
SEC503.2: Fundamentals of Traffic Analysis: Part II
SEC503.3: Application Protocols and Traffic Analysis
SEC503.4: Network Monitoring: Signatures vs. Behaviors
SEC503.5: Network Traffic Forensics
SEC503.6: Advanced IDS Capstone Event
Additional Information
Laptop Required
Who Should Attend
Prerequisites
Other Courses People Have Taken
What You Will Receive
You Will Be Able To
Hands-on Training
Press & Reviews
http://www.rarefile.net/426247il2vcg/SANS.Sec.503.Intrusion.Detection.part1.rar
http://www.rarefile.net/5khie8ifwdmd/SANS.Sec.503.Intrusion.Detection.part2.rar
http://www.rarefile.net/b93oavrt1cjn/SANS.Sec.503.Intrusion.Detection.part3.rar
http://www.rarefile.net/wvq3flr59olj/SANS.Sec.503.Intrusion.Detection.part4.rar
.